IMG manufactures custom, walk-in enclosures that are suitable for rugged, outdoor environment applications such as open-pit mining and oil & gas sites.
These modular enclosures are designed to be road-transportable to any location or country, including distant and remote areas. They are designed to maximise size without exceeding standard road transport requirements and thus do not require expensive transportation with pilot cars and permitting. They are equipment with top lifting attachments for easy site offloading.
Manufacturing and equipping these units off-site provides a cost effective solution for remotely located sites. They are manufactured to be turn-key with minimal on-site labour, thus again, saving the operation further labour resources.
IMG Walk-in Enclosures are typically used in, but not limited to, the following applications:

E-Houses (Electrical Rooms)
Pump/Turbine/Motor Control Centers
Switch-Houses (Switchgear)
Electrical Substations
BGTL/GTL (Gas-to-Liquid) Plants
Process Control / Office Rooms
Custom-built IMG MODULAR WALK-IN ENCLOSURES are designed to fit various applications. Units can be either skid-mounted or trailer-mounted, or they can be installed on site on to an IMG Modular Subframe that is pre-shipped and assembled at site. Installations can vary in size from one unit to multi unit arrangement.
All Walk-in Enclosures are manufactured to highest industry standards to meet or exceed quality, ease of maintenance, and most importantly safety. They have been engineered, tested and certified for durability and transportability.
The IMG Modular Walk-in Enclosures have been structurally engineered, tested and certified.

The enclosure size is dependant on application, but typically, they are 9'-10" (2997mm) wide by 10'-0" (3048mm) high by custom length @ 16" increments up to 43'-0" (13106mm). (IMG has manufactured several units with increased height/width, but those units do need additional transport requirements and permitting.)
IMG Modular Walk-in Enclosures are comprised of tubular steel frame/floor and formed steel wall panels. The are fully insulated and weather resistant. In addition, they are all typically equipped with the following:

Climatization / Ventilation equipment (as required)
Equipment / Man Door access are of industrial grade, c/w reinforced viewing glass window, industrial door hardware and panic mechanism hardware.(Windows in control/office applications)
Attachment points at rooftop level for lifting of complete unit
Standard Electrical – each Module shall include basic electrical wiring for Lights, Switches, and Receptacles (as required)
Interior and Exterior LED Lighting – shall consist of LED light fixtures to provide maximum visibility, while providing energy savings, reducing operating and maintenance costs
Smoke Alarms & CO Alarms, Pull Stations & Beacons – shall be installed as per local code regulations
Frame & Floors are sandblasted and painted with Durethane High Performance paint. Where required, in front of electrical switchgear, floor shall be covered with dielectric rubber flooring.
The enclosures exterior is powder-coat painted to customer color specifications
Optional rubberized roof liner for extra weather protection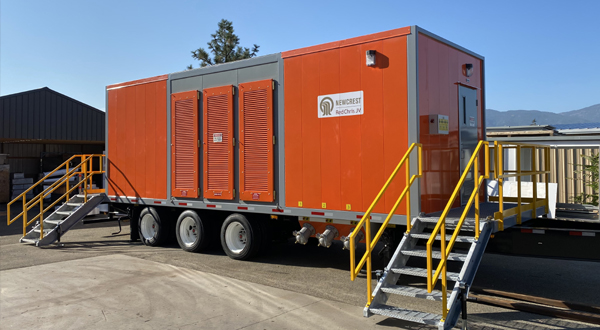 IMG Enclosures arrive to site turn-key, ready to be set in place. For multiple unit arrangement, units are equipped with termination boxes for easy site connection / inter-connection.
Depending on their function, they are equipped with various systems such as custom IMG Medium Voltage Switchgear (typically 5-25kV), Motor Control Centers, Pro Logic Controls, Various Frequency Drives, Turbines, Transformers (dry-type, encapsulated), Compressors, Liquid Treatment Plants, etc.
All units are tested and certified, where applicable, at IMG facilities prior to site delivery for easy and fast integration into site systems.
IMG has successfully designed and manufactured complete, turnkey E/M-Islands (Electrical and Mechanical Islands) with the use of IMG Modular Enclosure & Substructure System.
The Islands are installed onto IMG Modular Subframe that is premanufactured at IMG facilities, pre-shipped and assembled at site. The arrive complete with required wireways, walkways, stairs and safety railings. Once on site, these substructures are installed on to cost-effective steel pilings or concrete pads - ready for the Modules' arrival. Once the Modules arrive at site, they simply require craning in place (onto the substructure). Modules are equipped with termination boxes for easy site connection / inter-connection.
GAS-TO-LIQUID PLANTS
The original "E/M-Island" concept was custom designed for a unique, first-of-its-kind project located in Alberta, Canada - a GTL (Gas-to-Liquid Plant). (See in left photo: 12 Modular Enclosures with grey roofs)
Even though this GTL project could have utilized standard oil & gas type buildings, IMG and the client realized a possible future need. This type of project, or future plants, could/would be located in remote location, potentially even off-shore, that are not as easily accessible as the open plains of the Alberta prairies. Therefore, IMG designed a modular system for our client - satisfying the requirement of easy shipping of a turn-key unit in mind.
Since the initial concept, IMG has designed and manufactured several other E/M-Islands of various configurations and sizes. Several of these were shipped and installed south of our border in the USA.
Typical island included modules for: Incoming Switchgear, Transformers, Distribution Switchgear, Motor Control Centers, Variable Frequency Drives, Process Control, Turbines, Compressors, Liquid Treatment, and Offices.
Although this "Island" has been typically used for the GTL and future BGTL (Biomass-Gas-to-Liquid) Plants, these "island" configurations can be used in various other mining, oil & gas, industrial applications.
IMG steel frame Substructure for Modular Walk-in Enclosures is also modular and expandable to accommodate various arrangements - ranging from single unit to 12+ units. Each frame accommodates an individual modules. The frames are custom-sized to length to for various sized Modules.
The substructure elevates the Modules approximately four feet above ground level and incorporates wireways for electrical cabling to cope with electrical regulation for cable bending radius.
All cable entry point into the switchgear will be via bottom entry through aluminum gland plates. The necessary module inter-connections shall also be via bottom entry.
The Structure is equipped with required access-points view stairs, walkways and safety railings.
The frame is painted with gray Durethane High Performance paint. The floor grading and stairs are galvanized. Handrails are painted with high-viz yellow powder-coat paint.
The support structure is manufactured by IMG and installed by Others at site onto Steel Pilings or Concreate Footings.
For short lead-time requirements, IMG has successfully utilized Cargo Shipping Containers as walk-in enclosures for various applications and equipment housing. Containers are pre-engineered for shipping, are readily available and therefore provide a cost-effective and fast solution for site equipment needs.
Cargo Enclosures are altered to be fully insulated and fitted with interior wall panels. They are equipped with: climatization/ventilation equipment (if required); fitted with necessary equipment/man door access; interior & exterior lighting, fire/smoke alarms, etc. The enclosures exterior is painted to customer color specifications.
These modified Enclosures are then equipped with various electrical & control equipment and utilized for various applications such as Pump Control, Motor Control, Switchgear, and such.